Another very rainy day and I had to go to school, yet I was pretty excited because summer would be here in just two days. I kept thinking how fun it would be to watch the chicks again. But when I got home, looked at the back yard, and realized all of the chicks had gone missing! Where could have they all gone? My mom came downstairs and told me that the magpie parents had moved the chicks to our next door neighbor's yard. I was a little upset when I heard about that. Since my Dad did scare the chicks up into our neighbor's tree, the magpie parents must believe our yard was no longer safe, it did make sense for the magpie parents to move them.

The chicks were gone and even the trees looked lonely!

My mom told me that she had actually heard the chicks around 5 in the morning. She heard a lot of kerfuffle (kerfuffle is just an expression meaning disorder, agitation, or commotion) but she was too tired to get up to look. When she finally came downstairs to check the chicks they were gone. She went out to the lane to look for them but saw only two adult magpies on the roof top of our neighbor's house. There were two dark shadows emerging from the back side of the roof. She first thought they were the chicks but then she realized they were crows! The crows were inching towards the magpie parents while the brave Momma magpie stood her ground. If those crows were trying to push the magpie parents they were up to no good!

Face off time!

Not knowing exactly what was going on, Mom looked down and saw Nikki all curled up on a ledge of a fence outside our yard. When Mom approached Nikki she didn't even bother to move. She was too wet and miserable to care.

Mom found Nikki!
But momma magpie didn't like what she saw so she sounded an alarm it was then Nikki waddled away as fast as she could, towards the chain link fence.

Nikki heeded her mother's advice and began to run, I mean, waddle!

After Nikki went under the bush by the chain link fence, Mom continued to look for the missing chicks. At one point she heard noises from our neighbor's tree. She looked up and found Thunder still in the same tree that he went up yesterday! He was also wet and frightened. But there was no sign of Hoppie. Mom decided to come home to wait it out.


An hour later there was a ruckus coming from our backyard. Mom went to the kitchen to have a look. To her surprise, she saw Hoppie in our backyard, squawking his head off, trying to locate his parents and siblings. His calls were answered by papa magpie who then tried to encourage him to fly.

Hoppie on top of the recycling bin, trying to figure out this flying business

Hoppie made a few attempts and finally took off and glided just like what Bolt did yesterday. Speaking of Bolt, he was still missing. Mom thought he now could fly and was on his own. She was proven right when she later saw two adult magpies flying with one fledgling, and that could be our missing Bolt.

When I got home my mom showed me the video she made of the birds. I saw the clip where Hoppie glided across the yard into the pine trees. Hoppie was always my favorite (and he has always been awesome) so I was very proud of him. But then the video ended because my mom had to leave for a dental appointment at that time. When my Mom got home Hoppie had disappeared again. Disappearing seemed to be Hoppie's best trick so I was not surprised at all!

As I was wondering what happened after Mom left for her appointment, we heard a commotion from the back lane so we went to investigate. We saw Nikki waddling down the back lane into someone's backyard. There was not much going on so Mom and I came home for a break.

Nikki in someone's yard checking out a flip flop

When all was quiet, Mom went out for one last check. She said Nikki was out waddling down the lane again while Thunder somehow found his way down from the tree.

Thunder managed to get down from the tree but looking lost

Then a welcoming sound came from our next door neighbor's yard. It was Hoppie! He must have jumped the fence earlier and ended up in there! Our neighbor had a little dog but lucky for Hoppie the dog was kept inside the house because of the rain. As for Bolt, I bet he is out there somewhere, enjoying his new found freedom.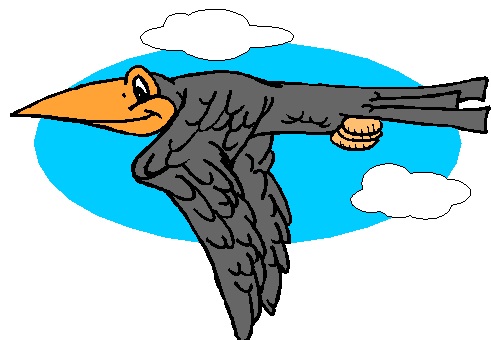 Mom came in with a smile on her face. We knew the chicks were no longer under our protection. I know I will still see them every now and then, until they become adults and find themselves territories. Some people may say magpies are ugly and annoying but they are part of our food chain and eco-system. If people take their time to observe they will find beauty in even the smallest things. My encounter with the magpie chicks was short but these birds will stay in my memory forever. Hoppie, Nikki, Thunder, and Bolt, I wish you the best. I hope one day you will grow up and raise your children and protect them like your courageous parents did for you. I have to close this short chapter of my book now but my love for magpies will stay open forever. Thank you my little fledglings, for making this summer a special one for me.

This is a grove where a lot of teenage magpies gather and play. I bet our fledglings will soon be there too.

I'd like to take time to thank all those wonderful magpies out there for being a great part of our world. Sometimes even small animals can do great things. I'd also like to thank my very good friend Peter Ursem for supporting me. And a big "thank" to my mom who helped me saved the magpies, took pictures, made videos, as well as editing my blog. Last but not least, I want to thank all of you for reading my blog. I hope I will see you in another STOW blog very soon.